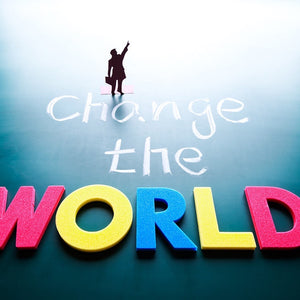 "Education is the most powerful weapon which you can use to change the world."

                       – Nelson Mandela
In 1982, Verlyn "Swede" Roskam and his friend Dan Mickelson came up with a plan to change the world. And they did. For that was the year they founded Educational Assistance, Ltd. or EAL. At the time, Swede was working incorporate sales for the Oil-Dri Corp. of America, active in his community and helping his loving wife, Martha, raise five children. But Swede also had a dream he was determined to turn into reality to repay a debt incurred early in his life.
When Swede was a student at Wentworth Military Academy, he found himself on the verge of dropping out of school due to lack of funds. Hearing about his plight, a couple who had lost their son in World War II, gave him enough money to cover his tuition, room, board, spending money and even a class ring. It seems that their son was a graduate of Swede's alma mater and they felt that helping a student was an appropriate way to honor his memory. Swede always felt he had an obligation to help others just as he had been helped. And I was the first of many to benefit from this audacious plan to change the world.
Like Swede, I know what it's like to be a student in need and believe that there are wonderful doors that can be opened for you through a college education. You know that the world you'll see will be very different if you have a college degree in your hand than if you don't. I don't think I would have achieved what I have without a four-year college degree.
I came to the US as an exchange student from Argentina and originally was enrolled in Purdue University. For various reasons I found myself floundering at Purdue and my host family, the Helds, suggested that I take some time off from my studies to regroup. They helped me get a job as a counselor at the Convenant Harbor Bible Camp and Conference Center and while there, I met Swede Roskam. Discouraged about my future and not sure which direction I should head in, I took Swede's advice and applied for an EAL scholarship to North Park University. That's how I became the first EAL scholar.
With the guidance of the Helds, Swede and his wife Martha I graduated school with a degree in Economics and just ten years later was honored by Crains Chicago Business when I was chosen as one of Chicago's most promising business leaders featured in "40 Under 40." Since graduation, like Swede, I have tried to help others as I was helped. In 1995, I came back to EAL to serve as its Executive Director and now am the organization's CEO.
This fall EAL is celebrating the fact that over the last 34 years we've raised over $18,000,000 to help 15,000 students complete their education. We're also in the process of updating our brand, our website and the name under which you will find us online at EALgreen.org.
You see, our business model has not only assisted students and universities and benefited our corporate donors by enabling them to earn tax credits for their donations, but EAL has also been a pioneer in the area of sustainability.  Over the last 34 years EAL has repurposed over 200,000 tons of materials into usable goods instead of landfill. Thus, we're helping to improve the environment as well as the lives of individual EALgreen students. Adding "green" to our name is a way to acknowledge this aspect of our unique business model while demonstrating our unwavering commitment to education
Today our world is going through some challenging times. Our climate is changing, affecting the way we live and prosper and accessing educational opportunities seems to depend more and more on personal wealth. But when I consider Swede's story and mine, I realize that changing the world for the better can still be done – one person at a time – through small actions as well as major accomplishments.
Here's just one example. While Swede and Dan Mickelson sought corporate donors and college partners to support the work of EAL, Swede's wife, Martha, made a contribution to my life I'll never forget.  Martha would send me personal notes on pretty stationery to encourage me as I labored in my studies. They meant a lot to a poor kid from Argentina. They conveyed to me that I was not alone and that cannot be underestimated. The note-writing may seem like a small act but it made a big difference in my life. In fact, I still have those handwritten notes.
All of us have the power to change our world. By gaining skills so we can take on more complex and demanding jobs that we wouldn't be able to do without an education. By contributing our time, effort and money to causes we believe in. By being conscious that creating waste and pollution has real consequences for our planet and all the life upon it. By showing family, friends, colleagues and even strangers that we respect and care about them as individuals.
I know that by working together on big projects, giving of ourselves in small ways, all of us can improve the world around us and, in doing so, ourselves as well.
Carpe diem – seize the moment!
As always, I would love to hear your thoughts.
Thank you for reading.